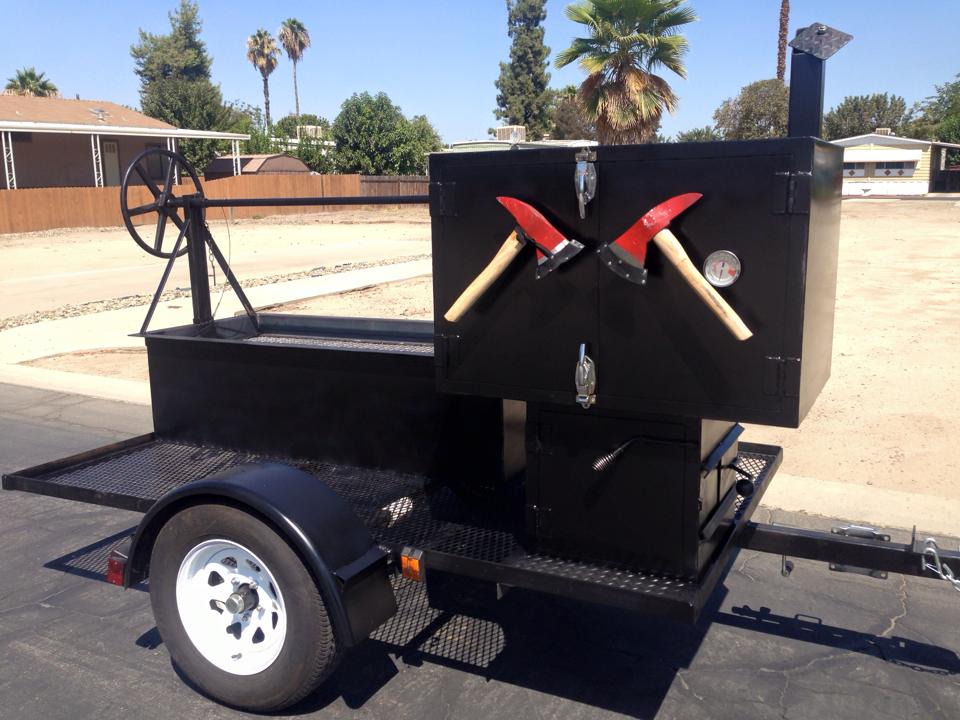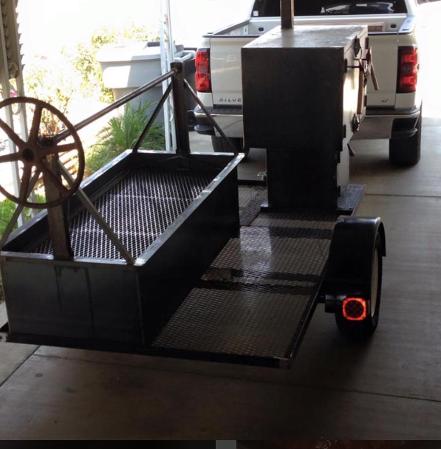 -5'x8' Trailer with 15" wheels, converted into the ultimate in travel BBQ or tailgate rig
-Front Mounted I.C.U. Smoker with all standard options:
1/4 inch steel on bottom of firebox.

1/8 inch steel walls and ceiling.

Double doors with latch on cooking chamber.

Heavy duty latch on firebox door.

3 levels of cooking grates provide over 2100 square inches of cooking space in main chamber. -Grates are removable. Removing top 2 grates gives you 22 inches of headroom while still maintaining over 700 square inches of cooking space.
-Santa Maria Style BBQ grill with 30"x60" cook surface and hand crank to raise and lower that beautiful BBQ to just the right cooking height.
-Diamond plate and expanded metal floor to carry all of your wood and accessories.
-$4800
The Super ICU and a Santa Maria grill come together on a superbly portable trailer. The small footprint of the 5ft by 5ft trailer make this the perfect backyard, tailgate, entertaining and competition unit. What is the Super ICU? It is a vertical smoker with the following features:
1/4 inch steel on bottom of firebox.
1/8 inch steel walls and ceiling.
4ft x 2 ft cooking chamber = 3,400 sq inches of cooking area
Double doors with latch on cooking chamber.
Heavy duty latch on firebox door.
3 levels of cooking grates
Grates are removable
The ICU is a superb pizza cooking unit. It will hold temps at 500 with no problem. The Super ICU will accommodate four large pizzas per rack.
Sliding water pan shelf allows easy placement of water pan without occupying space on cooking grate.**
Dual chimneys with adjustable dampeners and adjustable firebox vent allow for easy temperature control, as well as peace of mind when you want to put out your fire.
The Santa Maria Grill is 2ft by 4ft. As is standard on all of our Santa Maria grills, it comes with a vent to ensure air flow to the fire and a raised wood/charcoal grate to maximize efficiency. While you are free to order any handle you want on your Santa Maria, this is one snazzy handle!
$4,200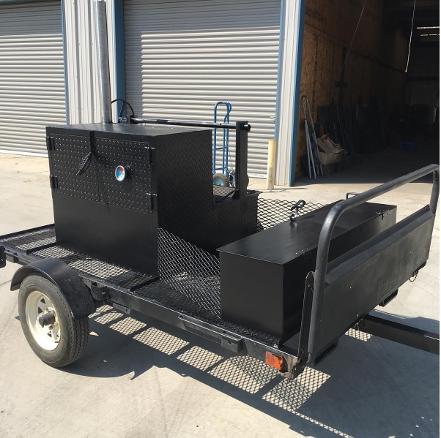 -Need a portable grill and smoker and toolbox for the tailgaiting, camping, or start your new catering business? The Santa Visalia is the best of both worlds.
-shared firebox, one fire, two cooking units
-multiple shelves for smoking glory
-Adjustable height Santa Maria style grill for all your tri-tip cooking dreams, and a toolbox at the front for all your goodies .
- Also available without trailer for the more grounded types.
-$3200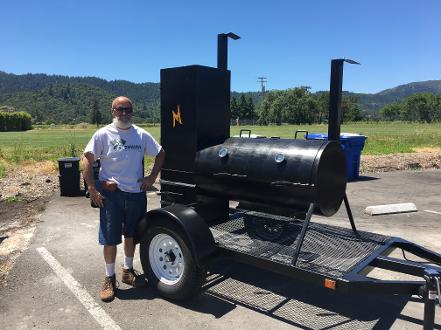 -If the Meat Locker and The Terminator had a child this would certainly be it.
- over 2500 square inches of vertical smoke/grill capacity, with a traditional offset smoker attached.
- old school, new school, and cool school and rolled up into one bad smoking machine.
-individual stacks/dampers for each smoke chamber
-3 doors for easy access to all that smoked glory.
-$5,800 on trailer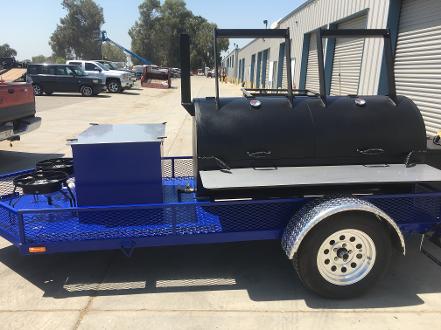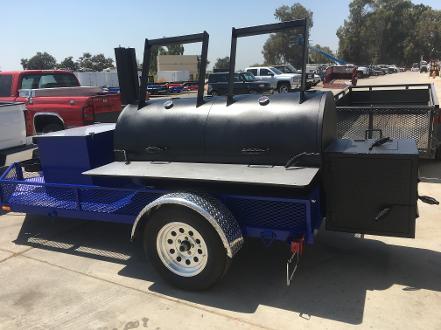 The Detonator is the dream rig for catering or competition. It has all of the bells and whistles. This unit will make your BBQ dreams come true.
Firebox - 24" x 24" with grill station
Smoke chamber - 34" x 72" 3/8 inch steel with two grilling levels and split shelves for 3900 square inches of surface area
Hwy. legal trailer - 5' by 10' with custom guards
Dual opening doors for cooking on split level
Counter weights on doors for easy opening and closing
Latches on doors to ensure a good seal
Gaskets to keep the smoke in
Dual vent system
Ball and valve drain system for smoke chamber
Work station in the middle with sliding lid
Two 200,000 BTU burners on the front
$9,600 as pictured