As our name implies, we build our units custom for you. This gives you the ability to chose from a number of options for your BBQ. It is important to take your time in looking over the different cookers we have to offer and to chose from some of the options we offer below. When you call or email me, I will help you make some choices. I have enclosed some of the options we have available. Some are upgrades and some come standard. Before we sell you anything, we will discuss whether it is standard or an upgrade. An example is the pull handle on the Meat Locker and the Rib Wagon. They are standard on those units but would be an add-on to the Intensive Cooking Unit. Look below for styles and options commonly requested.
Standard High Temperature black paint is used on all units. I send a can of paint with all units for touch-up. I can use other colors of High Temperature paints, as well. If powder coating is requested, it can be done but please specify up front as the cost is significant and variable depending on the size of the unit.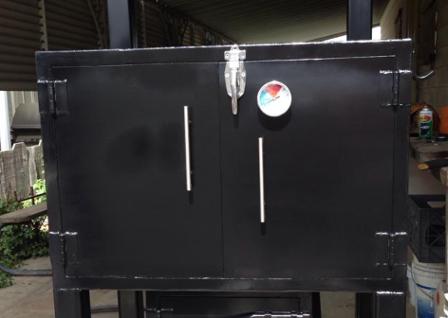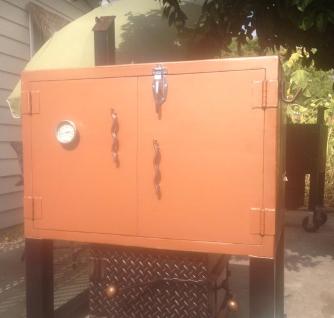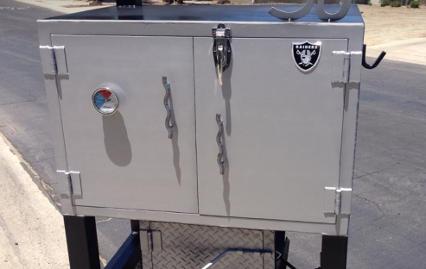 At California Custom Smokers we offer almost anything you would like in the way of handles. Handles are a nice way to customize your unit. Most handles I offer are standard but some are custom. Below are some of the handles that I offer and have made.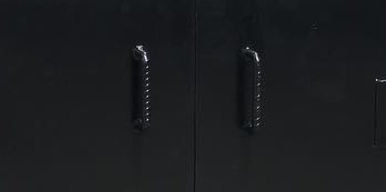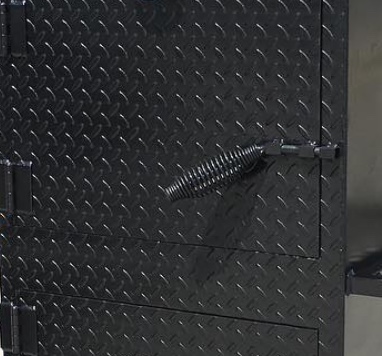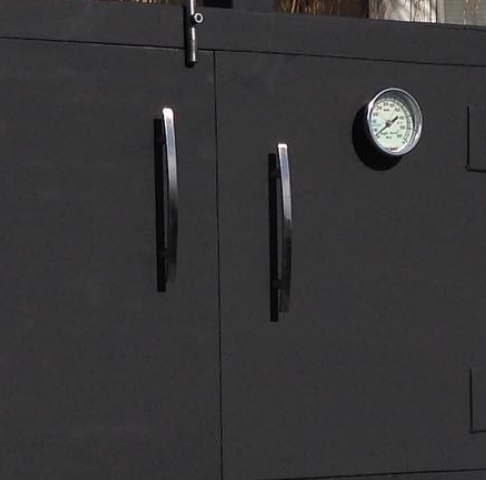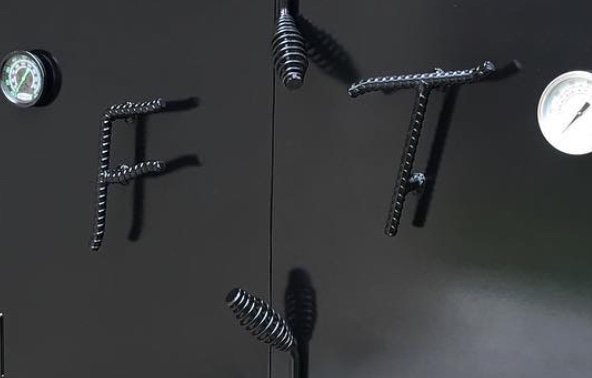 At California Custom Smokers we can make either a smooth or diamond plated unit for you or a combination of smooth and diamond plate. You will also notice that for many of our uprights we use 1/4 inch steel for the firebox and 1/8 inch for the cooking chamber. Seasoned correctly, the firebox and cooking chamber should last a lifetime. If you would like to make adjustments to the steel used - for example 1/4 inch steel throughout, the cost will go up relative to the size of the unit I am building for you. Despite what you may have heard, there are real advantages to having 1/8 inch steel in the cooking chamber, especially in an upright unit. It reduces the weight of the unit making it more mobile. When temperatures begin to fluctuate they are easier to regulate. If you are opening the doors to work with or remove food it is faster to get back to temperature. If you look around at stick burning units you will most surely notice that the wear and tear in a unit takes place in the firebox. That is why it is 1/4 inch and built to take the rigors of the heat.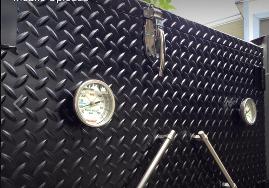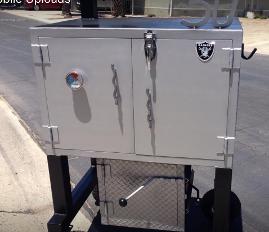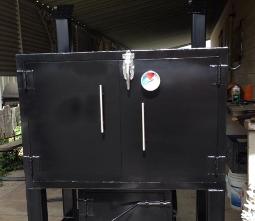 The manner in which your BBQ unit closes is important. You want a door to shut securely and be able to withstand the heat that it will be subjected to. Offset cylinder units are fairly simple. The hinged door closes upon itself and the weight of the door, coupled with seasoning, provides a nice seal right away. Unlike cheap offset units which use very light metals, the need for gaskets is unnecessary. In fact, the doors of some units benefit from a ballast to make opening the door easier. A cabinet/upright is different. Their is no weight to force closure so I use systems which ensure a tight seal. When you first get your BBQ you will find that their appears to be smoke coming out around the door. Within a few cooks, your BBQ will become "seasoned" and you will notice that very little (if any) smoke comes out at the doors. If ordering a cabinet/upright unit, ask me questions and let me know your thoughts. There are advantages to each of the systems I use - top/bottom two-door system vs a single top or bottom closure system. I also use a refrigerator hinge system as well as a hook system.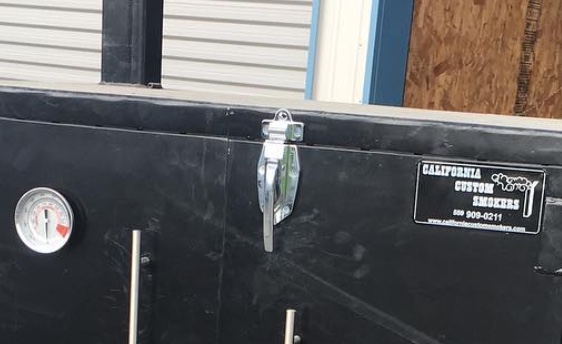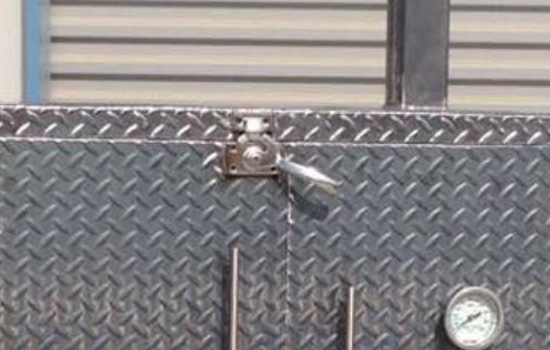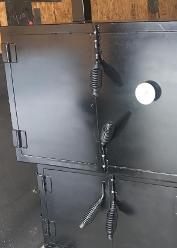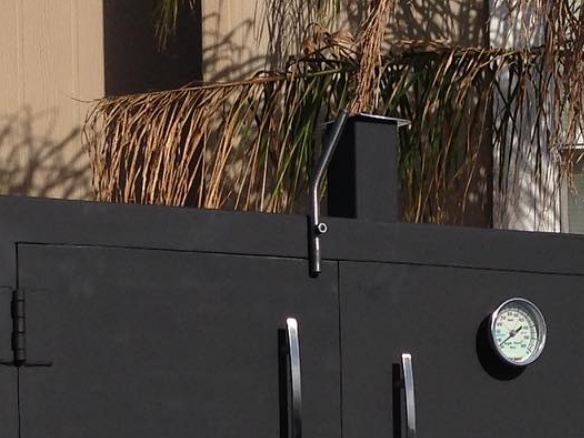 All of our units come with a sliding firebox side vent system and well as with a single or double stack adjustable pipe out of the cooking chamber. I can make all of my units adaptable to fan regulation systems. I have also built systems that take a unique approach to heat/smoke diversion.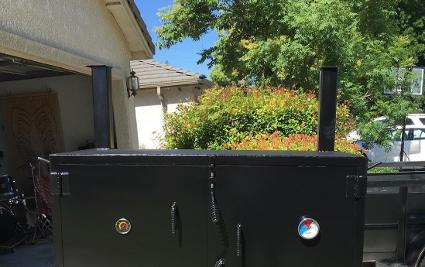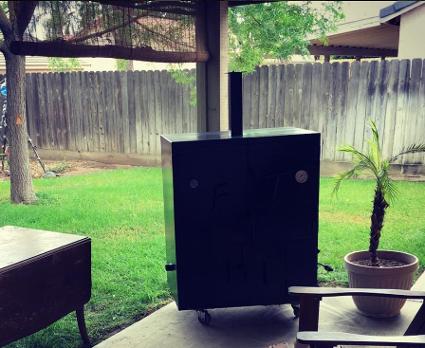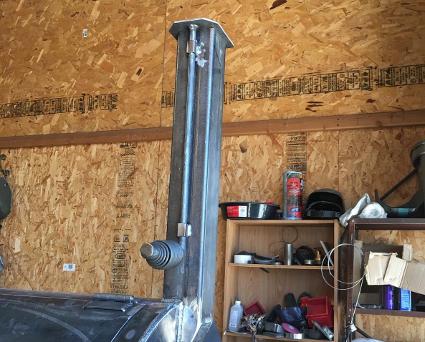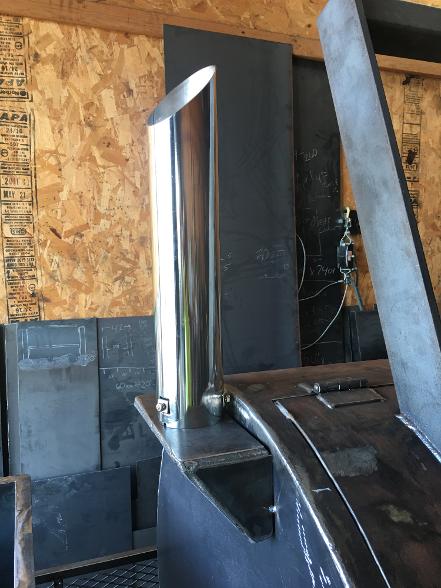 Stainless Steel Angle Cut Exhaust Tips
If you want your BBQ to stand out we offer the option of stainless steel exhaust tips. These will never rust, are able to clean easily and are designed to not accumulate the creosote that regular vents do. This makes for very efficient air flow and low maintenance. This product is special ordered and is thus,considered and "add-on". Ask for pricing at the time of order.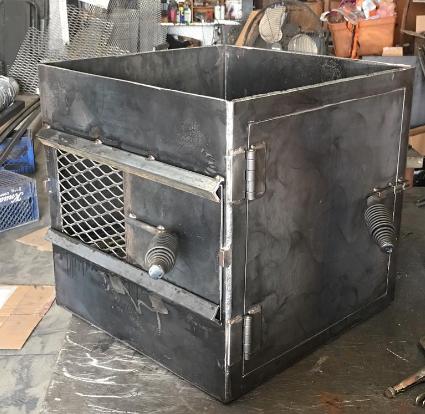 Note that side vents come with a coiled heat resistant handle.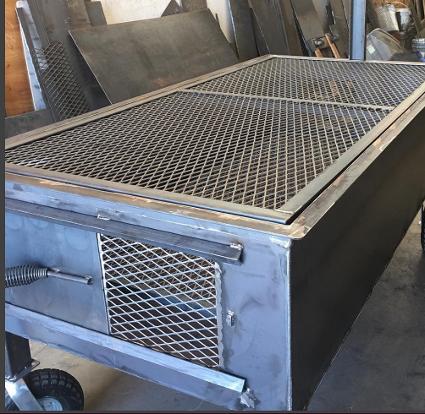 Side Venting Santa Maria Grill
All Santa Maria Grills come with dual side vents and a raised fire grate. This allows for a hotter fire and maximizes the effectiveness of the unit.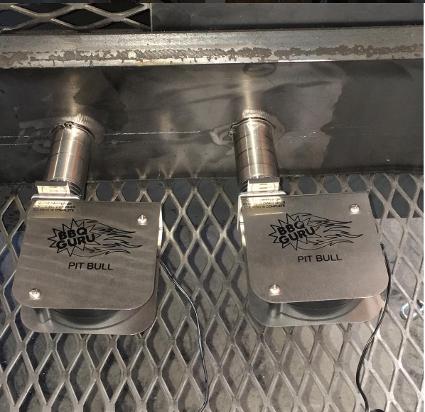 All of my standard vents can be adapted with flashing to make use of fans. I can also make ports on the unit for fans.
I offer caster wheels as well as inflatable tires and flat free tires. There are advantages to all three systems. I recommend caster wheels for units that are lower to the ground. They also have a low profile so that the unit does not get too tall. If you are going to be moving the unit a lot and have rough terrain, I recommend an air filled tire. The drawback to these, of course, is that they can go flat over time. Flat-free polyurethane tires can be used as well. They do not absorb as much shock and may not be as suitable for rough surfaces. I have included a chart below comparing the two.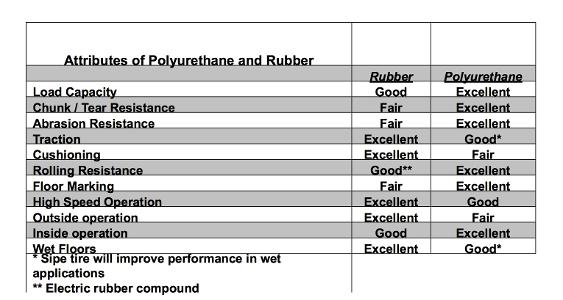 Racks are always an important consideration when picking a cooker. We use diamond shaped cooking racks in most of my smokers but can make custom racks, as well. We use a slide system that allows you to pull out the racks without the rack hitting the ground. The racks are also fully removable. In most of our units, the racks are interchangeable, as well. In our offset cylindrical units you can go with a double or single grate system. We also make a system in which the bottom grate is split, as is the lid, for sectioning off food items. On our upright units, you can choose to put more racks in, increasing the surface area available for cooking. For example, the ICU (Intensive Cooking Unit) comes standard with three racks, but as an add-on, a four rack option is available.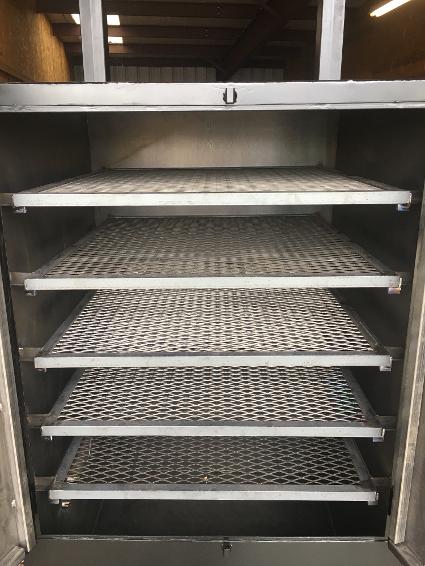 Standard sliding grates in upright units
These are the standard grates that we use in the upright units. They are slide out shelves with a groove and hook system. This allows them to be pulled fully forward and the rack will angle slightly downward without coming off. This is very handy when saucing, mopping or just spot checking the temperature of food items. If the grates are pulled 7/8 of the way out, they can be lifted straight up and removed.
- Additional shelving on all standard units is $200 per shelf.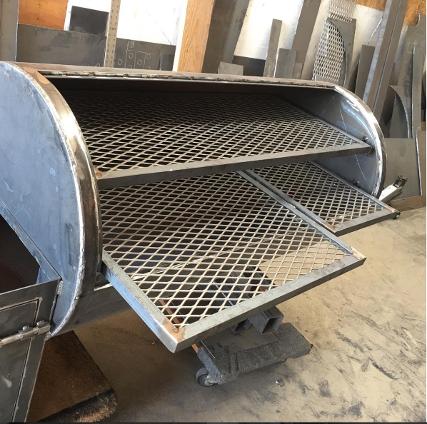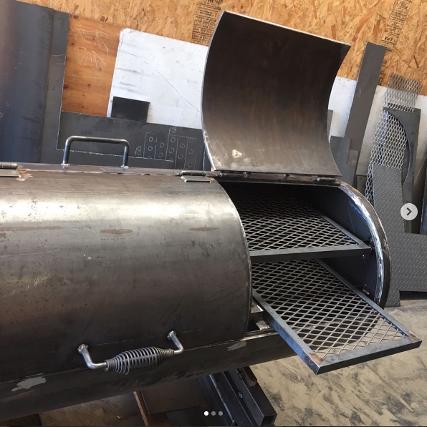 Offset Racking
On our large offsets a dual high-low rack system is standard. However, you can also opt for a split level system. This option comes with a split door that allows you to access a portion of the cook.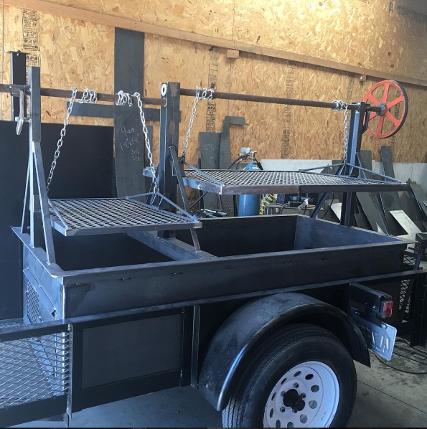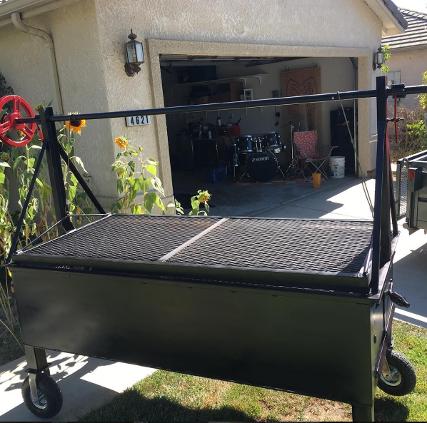 Offset Racking
On our large Santa Marias, a single grate is standard. However, you can also opt for a split level system. This option gives you the ability to cook at different times and at different temperatures. It gives a lot of versatility when cooking for large groups. It also allows you use a smaller portion of the grill when you are cooking for a small group.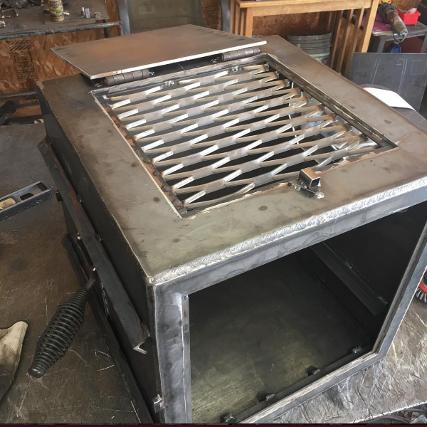 Grilling Rack for Firebox
On some of our offset units this is standard. One of the common complaints about smokers is the inability to also have a grilling area. This feature allows you to finish food with a grill from your smoker or just use you large unit as a small personal unit for steaks, chicken, fish and veggies.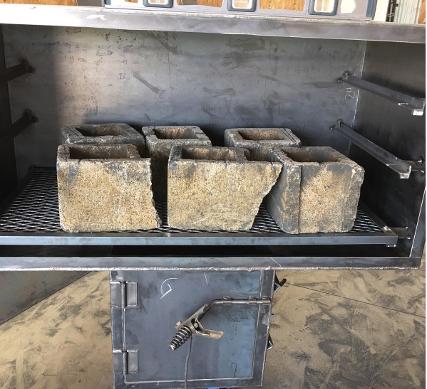 Weight Tolerance
This is 120lbs of cinderblock and as you can see, there is no bend in the grate.