People love my ICU units. Heck, I love my ICU units. I have a four shelf unit in my backyard. I believe that the ICU is the ultimate backyard stick burning smoker. It combines the ability to grill as well as the surface area to smoke a lot of meat. It has a small footprint for the amount of food it turns out. The standard two vent system allows you the unique ability to maintain a clean fire and still regulate the outflow for temperature control. Closing one vent completely allows you to cook on a side of the unit with very little fuel. The unit also allows you to cook for a large group. Each rack will allow you to cook seven evenly trimmed racks of St. Louis style ribs. Each rack will allow you to smoke twelve Tri-Tips with space in between. In designing this unit I asked myself "How can I make a system that optimizes a clean fire, is easy to control temps and still gives the cooker the ability to customize?" Before I put the system on the market I tested my build and made adjustments to ensure that the system worked. The beauty of being a certified Ironworker with years of experience as well as a love for BBQ gave me the unique ability to put my experience in both venues to work for you and me. So many people have been enamored with the system that they have asked me to make modifications to increase the function of the unit to suit their particular needs. Peruse this page and determine if the standard unit is what you want or let your mind wander and build upon what others have had built for them.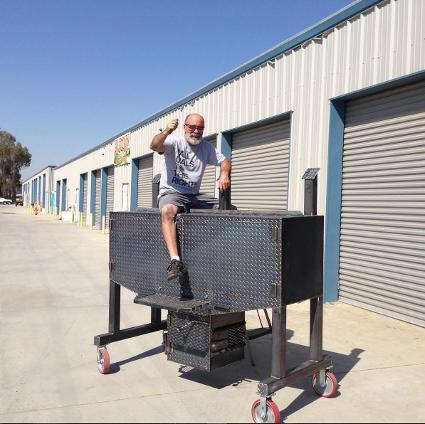 The Black Stallion
The Black Stallion is a three shelf, three vent system with caster wheels that was born out of the ICU system. The owner wanted the ability to do multiple pizzas as well as a large amount of meat without going taller. When I first described it I advertised "Three sliding removable shelves capable of handling 150 pounds per. That's nearly 4500 in.² of cooking space. Or approximately 64 individual items cooking at the same time" If you are wondering - that is ME on the top of this beauty.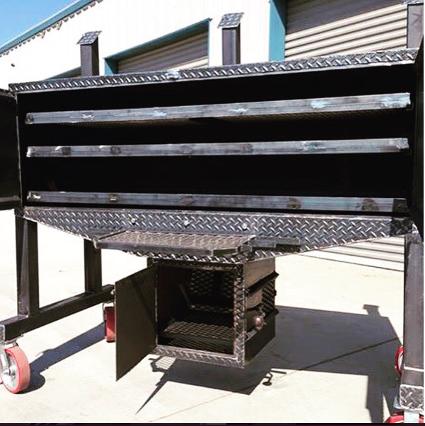 The Black Stallion
With the proper amount of wood and the vents fully open, this will hold temps at 600 degrees. Imagine how many pizzas you could get in that at one time. As a smoker, with a water pan and the vents slightly open, you are going to get a nice even distribution of smoke through the entire unit allowing for a minimum of twelve racks of ribs per shelf. Believe it or not, the footprint is still relatively small compared to what you would need to build for a traditional offset to get that type of production.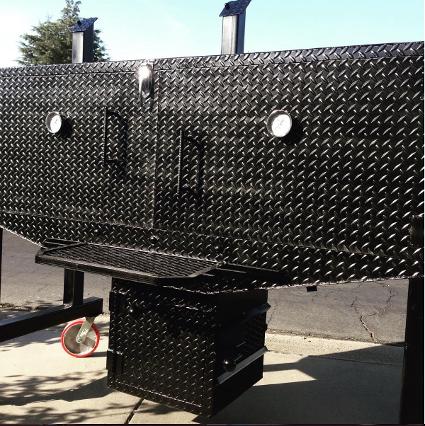 The Black Stallion
While I don't typically like to brag, fully painted this thing is a beauty. If you get the impression that I am attached to my units, you are correct. When this was done, I hated to see it go.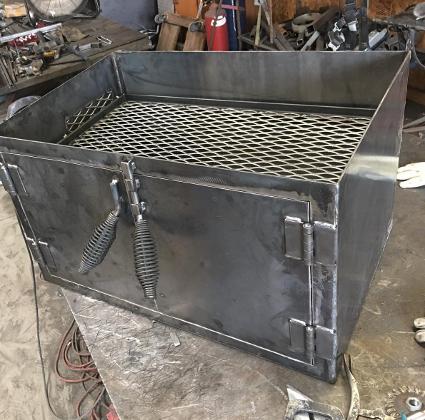 The ICU with Expanded Firebox
This ICU was built for someone who wanted the practicality of the ICU but also the ability to grill a lot of food at the same time. You will notice the enlarged firebox and raised fire grate. This unit can accommodate two levels - one lower grate for smoking and one higher grate for grilling.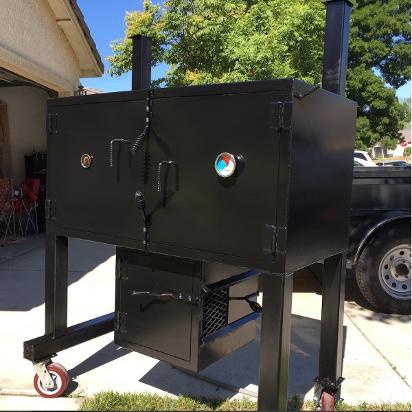 The Super ICU
The finished product - still the small footprint of the traditional ICU. The legs are balanced to make it more portable. It is very important to understand that when you come to me with an idea I will make it but I will not send it out until it is functional and safe.
The ICU with expanded firebox
If you are going to be grilling on the ICU why not upgrade to a super customized grate and expanded firebox? Because all the grates on my units are interchangeable, if you wanted to grill smaller items you would just swap out the bottom and middle grate.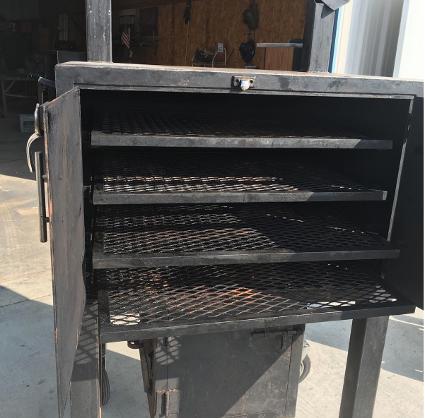 Four Shelf ICU
This is a four shelf ICU unit. The lower great is fantastic for grilling of for just packing in more food.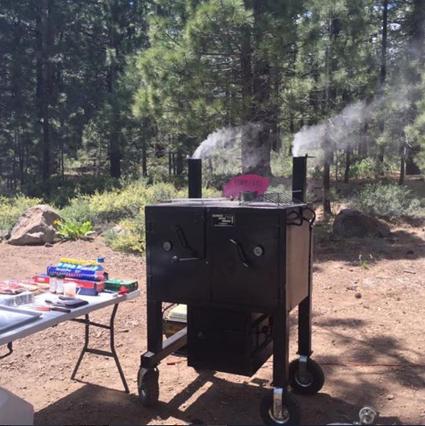 Portability
The ICU can go with you. This ICU was used as the camping companion. It is nice that it looks like a bear box!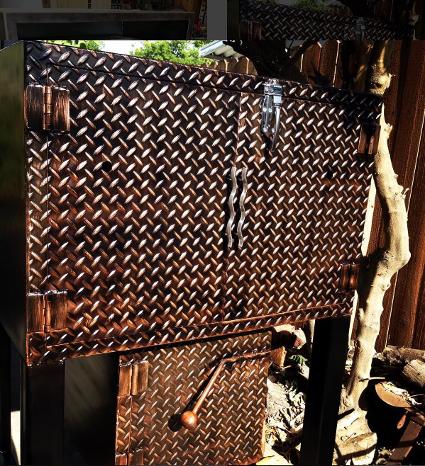 Adaptability
I build these units not to be just functional but to be a work of art, as well. This unit is rust painted with a diamond plate front.