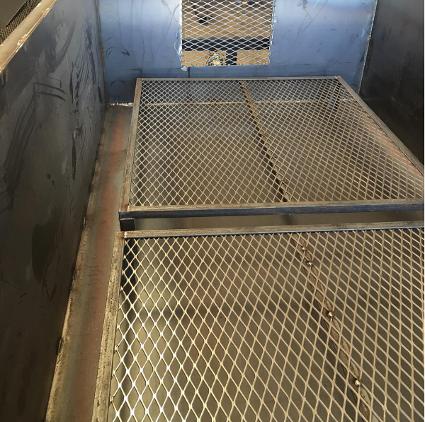 Raised Fire Grates
All of our Santa Maria grill come with raised fire grates. An ash pan can be made to go underneath them, as well. If you look at many units on the market, a raised grate is an add-on and often forgotten accessory. The Santa Maria cooking style is meant to be hot with the grates moving the meal to the optimal height for cooking. Without the raised grates, air flow to the fire is not optimized and you are left with a cooler fire.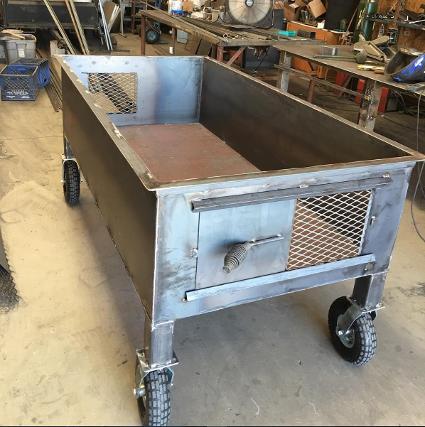 Two Vent System
All of our Santa Maria's come with a two vent system. Like a raised fire grate, this is very important to maximize heat and the air-flow needed to maintain a fire. Imagine a grate full of food lowered to searing level. Most of the oxygen is cut off as is the fire. The two vent system allows for a cross flow of air to maintain your fire.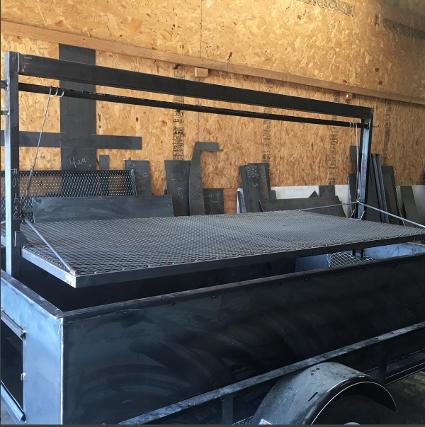 Top Grate
We use standard cabling on the units and a steel cross bar. We pay very close attention to the balance, ensuring that the grate is level front to back and side to side. You will note that I don't skimp on the surface area. We can also make you a removable grate or can make the top grate with a lip to accommodate other types of grills. If you want a custom grill top, let me know and we can make one. If you want to add Argentine style grates, weI can make them. If you want the surface sized to accommodate aftermarket grate products, let us know what you are looking at and we can ensure that the sizing is correct.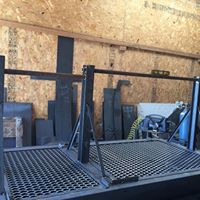 Split Level Cooking
If you are cooking for a large group and are cooking different foods or cooking and finishing at different times and temps there is nothing more convenient than a split level system. Another advantage of a split level system is that if you are cooking for just a few folks you can use just one side.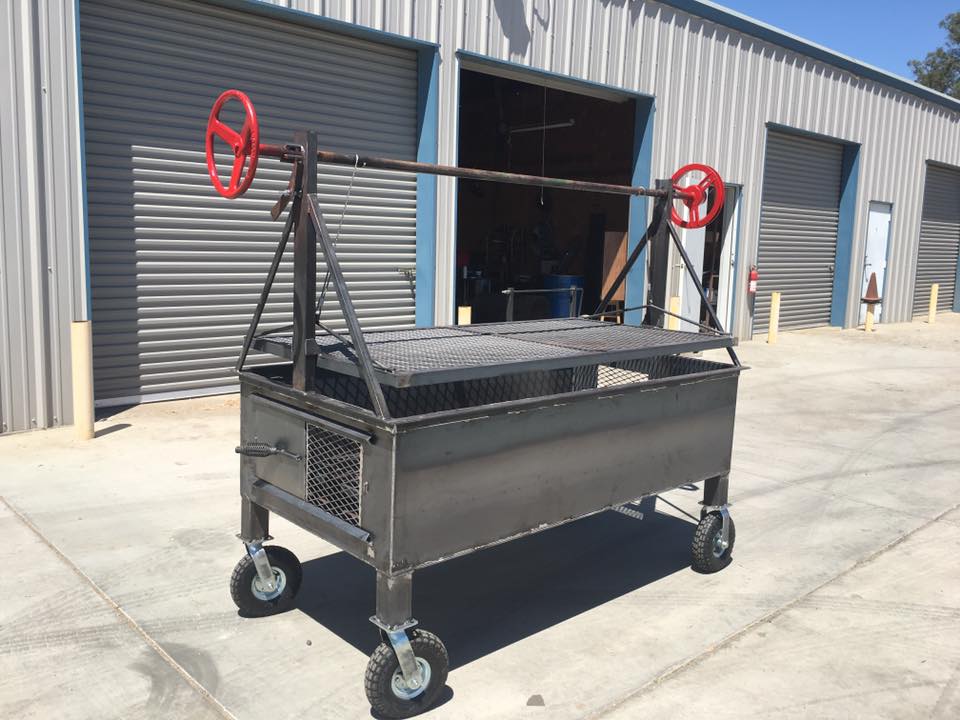 Cart Model
We make cart units with caster wheels or rubber tires. Talk to me about your wheel preference. We make the units to accommodate your needs. You may not be moving the unit much. You may be moving it but have a very even terrain. You may be moving it over rougher terrain. Each of these factors helps me advise you on the wheel choice that will work best for you.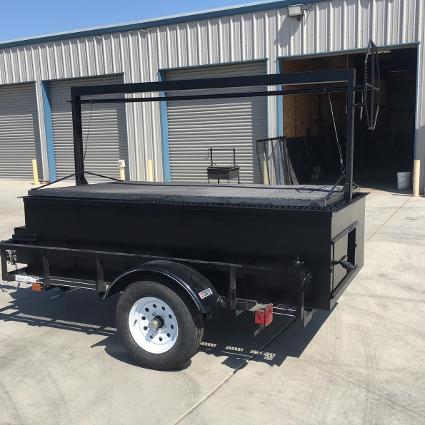 Trailer Models
We make a wide variety of trailer models. Some of my Santa Maria's are the only item on the trailer and some are in combination with other units (see the Meat Hauler). If you are planning an outdoor kitchen, I can make a custom drop in unit, as well. Talk to us about your space so that we can design a unit that has venting to accommodate the space you will be dropping it in to.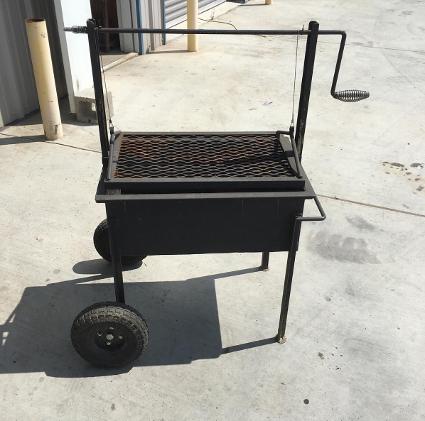 Sizing
Not every unit has to be a big one. We can make any size you want. This unit is a perfect home/tailgate unit. The topic of searing has become really big in BBQ these days. Whether you like to sear at the front end, reverse sear or a little of both, the Santa Maria lets you do it. A smaller unit Santa Maria is also the perfect companion to whatever personalized backyardsmoker you have.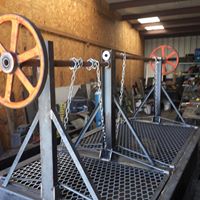 Cables/Handles
Cables for raising grates is standard as is a rod with a heat resistant handle. However, we can use chain for raising the grates and anything you can imagine can be used as a handle to customize the unit.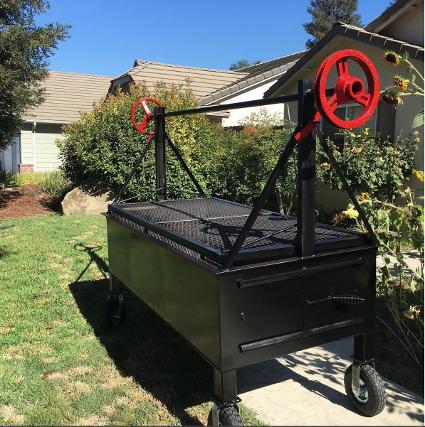 Customization
Any BBQ enthusiast knows that their equipment is not just a cooking instrument but is a piece of art. We make all of my units as though they were going in my yard. Let us know your tastes, your color preferences as well as what you want the BBQ to do for you and your yard.