At California Custom Smokers we offer a number of in-house accessories which we make in the shop. We can also purchase after market accessories to add on to your unit. The advantage of us adding the accessories here is that we can tailor your unit to the accessory. Knowing what you want also helps us design the unit to best fit your needs. An example of that in the growing use of fans and/or WiFi enabled temperature devices. Knowing your intent helps us design the unit to accommodate your needs. For example, our Upright Cabinet units do not come standard with outside shelving. You may want to consider that as an add-on for mounting or resting an electronic temperature device. If your unit has doors that close in the middle, you may consider having port of entry holes made on the side of the unit at shelf levels for easy placement and removal of temperature probes.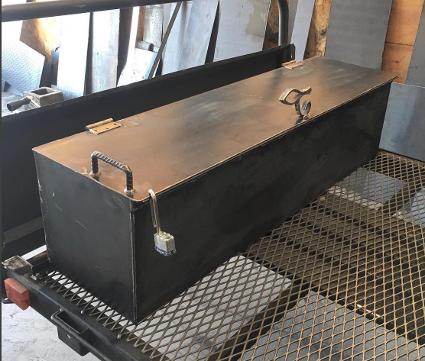 Tool Boxes
If you are ordering a trailer unit one of the most handy items on the trailer could very well be the tool box. I will custom make the box to fit your needs. I will put dividers in, if desired. Load you tools up before taking off and you will not having to worry about forgetting something or taking up space in the car. You also no longer have to worry about things potentially flying out of the truck bed or trailer. The cost of the box is dependent upon size.
Prices begin at $195.00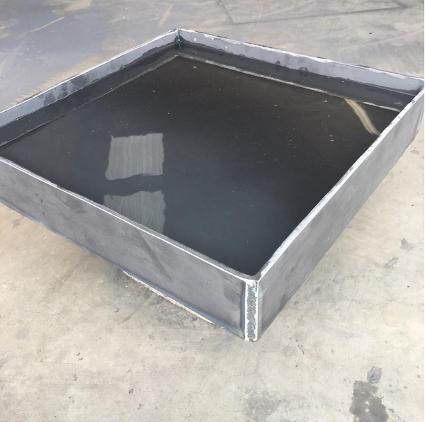 Water Pans
Most of our upright units come with a set down grill which serves to grill meat or to rest a water pan. The problem with after-market water pans is that they are made with cheap metal, do not fit the resting space well and do not have a large capacity reservoir. I make what I call the "forever water pan". Made of heavy gauge steel, it is designed to last almost as long as your firebox. I design the water pan to the size of your unit and needs. I can add handles to the water pan if you would like. If you are not a proponent of cooking with a water pan you may still consider ordering one because without water, the pan acts as a nice direct heat deflector/regulator. Prices vary based upon the size of the unit.
Prices begin at $75.00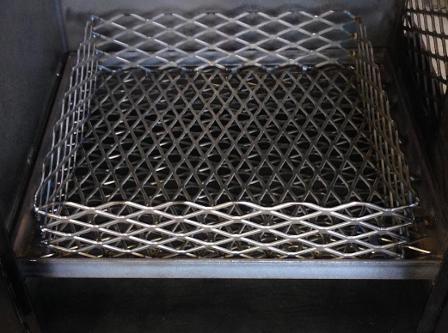 Charcoal Baskets
Every firebox grate I make is designed to withstand a hot fire and to last a lifetime. Therefore, I use a very heavy gauge material with wider than normal gaps. This maximizes airflow and withstands the rigors of use. Because of this, it is more conducive to large splits of wood. If you are planning to use charcoal and wood chips or smaller chunks of wood, a charcoal basket is a nice add-on accessory. It is designed to contain the charcoal throughout the entire burn process and keeps the heat source directly below the water pan (if you use one). If you are going between wood and charcoal, I highly recommend this add-on.
Prices begin at $50.00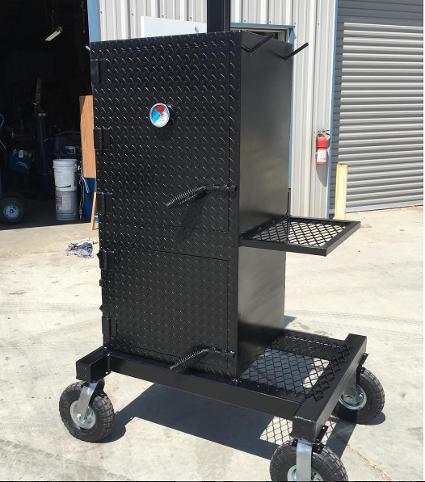 ExternalShelving
Shelving can prove to be a "must have" in a lot of cases. People typically think about them on their offset units but sometimes forget about it as a handy add-on to their upright units. On of the advantages of an upright unit is the conservation of space. However, if you do not have a spot to prep or pull food or to mount a temperature control unit you may feel you missed out by not getting one. The Mini Meat Locker, pictured here, comes with a welded side shelf. If you would like a hinged shelf that folds down and mounts with a hinged rod on an upright, I can certainly do that for you, as well.
Prices begin at $75.00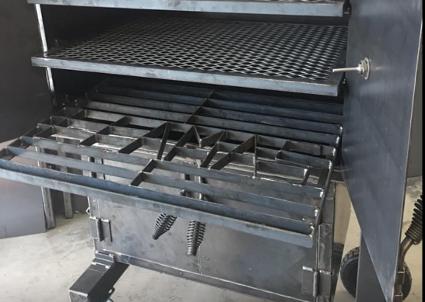 Custom Racks
There is nothing that will dazzle your guests and friends as much as an ornate cooking rack. If you want a custom rack, let me know what it is that you want. In some instances they may limit some of the functionality of your unit. For example you would not want to cook chicken wings on the grate pictured, but can't you just imagine a brisket or ribs on it?
Prices completely dependent upon materials and size.