9/15/2017 - Videos are Now on YouTube
We have converted the videos you see here to YouTube. If you are using a phone or mobile device, you may have overlooked the fun of the videos. Feel free to share them with your friends and family. You can view them in the site:
Of course, they are designed not just to inform, but to entertain.
9/7/2017 - Introducing the Super ICU Trailer
The Super ICU Trailer was finished and found a home. Look at the custom handle on this unit. Isn't it a beauty? At $4,200 this is really a great deal. You can smoke and grill at the same time or smoke food and finish it off on the grill. This is a unit that will be functional and beautiful in the yard. However, imagine how proud you will feel when you pull up to cook somewhere else with this! I doubt anyone will want you to leave. Alone, the Super ICU costs $2,400, the Santa Maria $850 and the trailer $1,500 = $4,750. This is a $550 savings as a combo unit. If you have been following BBQ news recently, you may have noticed that opportunists have been stealing some, of late. For an additional cost, I will install a GPS tacking device on any trailer I build for peace of mind.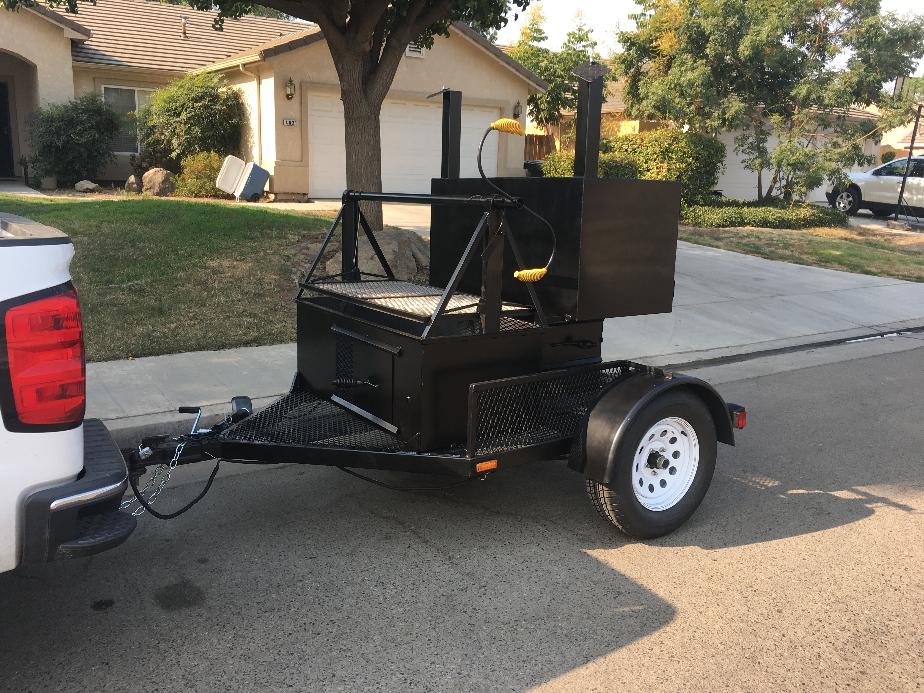 8/28/2017 - Operation BBQ Relief
Labor Day is upon us and it will be a great time to get out and BBQ. The weather forecast for California would not give you the indication that Summer is coming to an end. However, in the midst of our celebrations, we at California Custom Smokers cannot ignore what is happening to our friends in the Gulf region. California Custom Smokers has made a donation to Operation BBQ Relief. It is a non-profit organization that provides food and supplies to victims of natural disasters. If you feel inclined to help their cause, I have included a link to the organization.
8/22/2017 - Project Update
The projects just keep flowing this summer. We are introducing and selling a new trailer. As you recall, we have made an ICU on a trailer with a Santa Maria previously, called the Meat Hauler. This is a bigger version of that concept. This is a Super ICU with a Santa Maria grill on the back of the unit. It has a slightly smaller footprint than the previous version and yet can cook more items because it is a Super ICU. If you like cooking different items at once and/or are a proponent of reverse searing, this unit is for you! Get your sneak peak of the project by clicking the movie link below.
8/20/17 Delivery of the Detonator
8-20-17 This has been the summer of the trailer! I am proud to announce that we completed and delivered our Detonator to Tuck in Napa this weekend. The Detonator is new to the line and has been a labor of love for us. This rig is truly a beauty and a beast. With over 3900 square inches of smoking space, two 200,000 BTU burners on the front and a 3/8 steel smoking chamber, this powder coated unit will win over the crowd with it's looks and cooking ability. If you look at the competition for this type of smoker, you will find that at California Custom Smokers, you will pay less and get the hand crafted quality that does not leave the shop until it meets the specifications of the perfectionist who makes it. Watch the video and enjoy!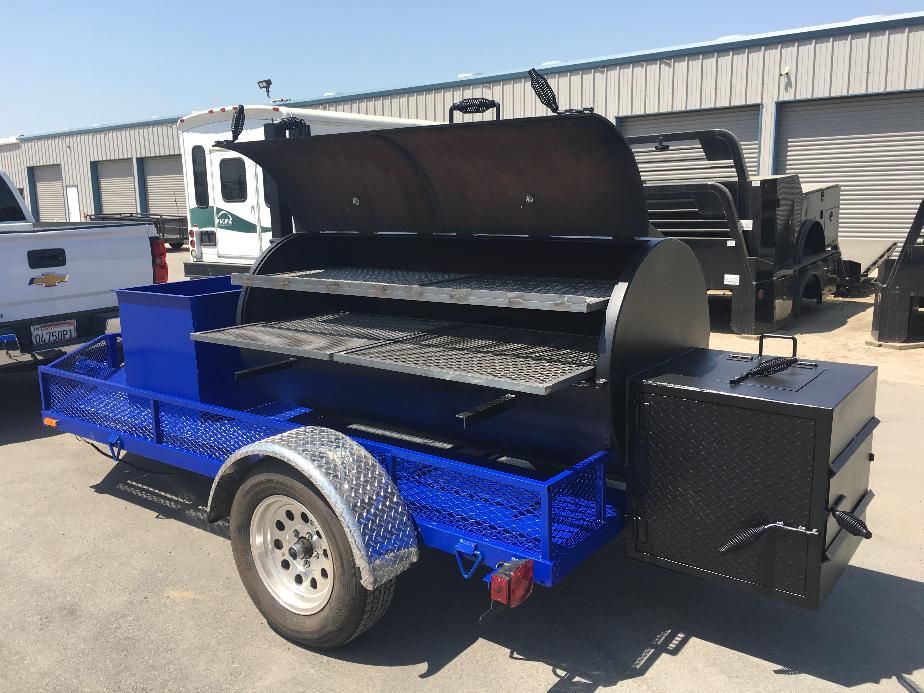 8/19/17 - Dropping in on friends
8-19-17 - En Route to delivering the Detonator, I dropped by some friends at the Charter Oak restaurant in St. Helena, CA. They have a two month old California Custom Smoker Offset Meatlocker that is producing some of the finest meals in the wine country. If you are up there, check them out. You will not be disappointed.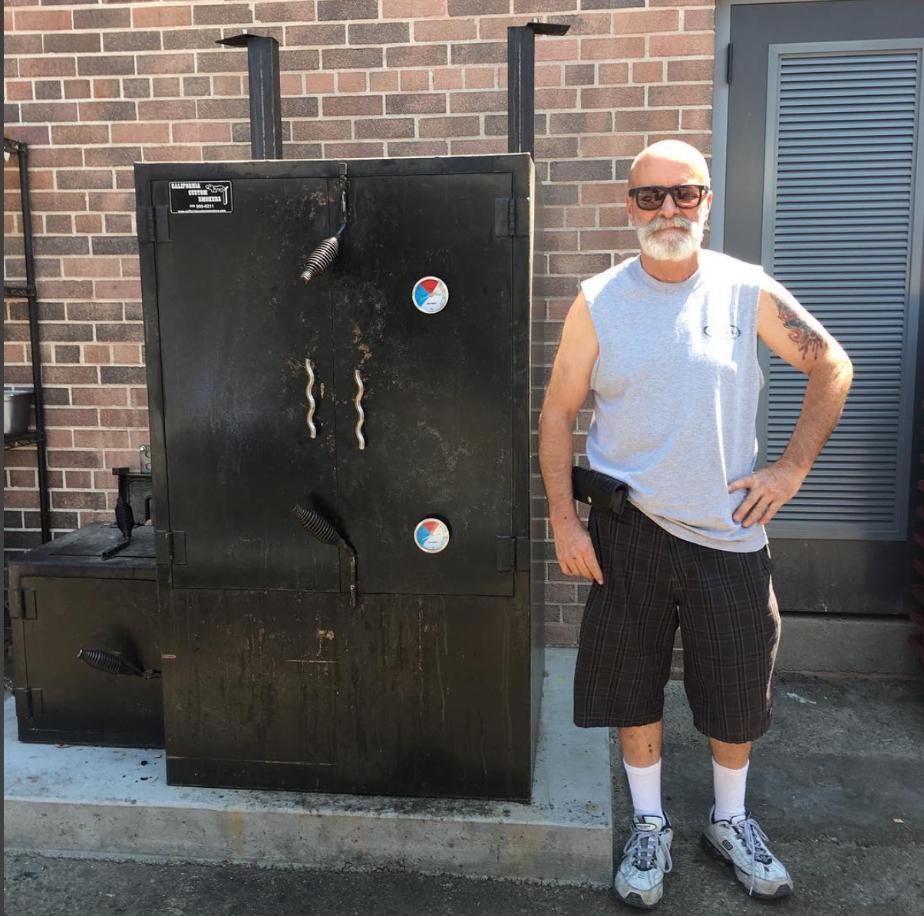 7-2--17 Reno Nevada Wing Festival Winner
July 2nd - A big congrats go out to Kevin McFarland and his Git-R-Smoked BBQ team. With the help of a California Custom Smoker Santa Maria unit he placed 2nd in the Celebrity Choice category and 3rd in the Chairman's Choice category at Reno's Biggest Little City Wing-Fest. His competition BBQ Team also caters. If you are looking for a qualified caterer in Northern Nevada or Northern California he can be reached at (775) 351-7236.